Open Positions
Arrowhead Regional Quality Council (ARQC)
Program Coordinator
Job Description 
Arc Northland is a nonprofit organization that supports individuals with disabilities, their parents and other supporters through education, advocacy and other supportive services.   
Classification   
40 hours per week, Non-exempt
Reports to the ARQC Program Director
Department of Human Services Grant; Minimally funded through November 30, 2023, possibly up to 2026  
Position Summary 
The Program Coordinator assists the Program Director with coordinating and implementing the ARQC        two-year workplan.  Deliverables include assessing and assisting with overcoming barriers to person-centered service delivery, meeting with individuals receiving Home and Community Based Services, service providers, county case managers, and other stakeholder groups.  Additional responsibilities include attending collaborative meetings and conducting person-centered trainings with a variety of groups. 
Essential Job Functions   
Adhere to all Arc Northland Policies and Procedures as outlined in Arc Northland Employee Handbook.

 

With direction and support from the Program Director assist with the implementation of the ARQC goals and objectives, such as:

 
Network and establish professional relationships with County, State and local human service providers within Arc Northland's service territory.

 

Attend and participate in the Culture of Safety and Communities of Practice meetings

 

Assist with creating principles of person-centered practices trainings to a variety of audiences

Meet with individuals receiving Home and Community Based services within a variety of medium

Coordinating and conducting listening sessions, focus groups, and World Cafes within traditionally underserved communities (rural, BIPOC, etc.)

Assist with coordinating and participate in Quality Council meetings as scheduled

Following data privacy guidelines, accurately document and manage data collected from informational meetings 

 

Generate reports when needed

Collaborate with other Regional Quality Councils across Minnesota

Assist with training community partners

Assist with setting priorities to improve home and community based long-term service and supports for people with disabilities based on regional strengths and needs throughout the Arrowhead Region

 
 Qualifications  
 Minimum qualifications require a bachelor's degree in social work, human services or related field combined with two or more years working with people with disabilities. 
 Knowledge, Abilities and Skills 
Knowledge, Abilities and Skills

Trained in person-centered thinking and person-centered planning, or willingness to complete training upon hire

Understanding of HCBS system in Minnesota

 

Knowledge of local community service networks

Ability to work with minimal supervision or guidance

 

Knowledge of Microsoft Word, Excel, and PowerPoint

 

Communication/Language skills

 

Excellent communication skills in the English language

 

Excellent writing skills: ability to write clear, concise and accurate documentation, reports and correspondence

Ability to speak before groups

 

Reasoning Ability

 

Ability to make appropriate professional judgments

 

Ability to handle multiple tasks and prioritize work

 
 In compliance with the Americans with Disability Act, the following represents the Physical/Environmental demands.   
 In all cases, reasonable accommodations will be considered. 
This position requires the majority of the workday spent sitting, standing and walking

 

Weights of objects to be lifted, carried, pushed, or pulled rarely exceed 24 lbs. Simultaneous use of the hands, wrists, and fingers is sometimes required

 

Movements such as climbing, stooping, crouching, twisting, bending, reaching, handling, fingering and feeling are sometimes required

 

Audio, visual, and verbal functions are vital aspects to performing this position

 

Much of the workday is spent in the community and may require exposure to outdoor elements including dust, fumes, noise, and glare

 
 Transportation 
 The position requires travel, generally within the state. Periodically, overnight travel is required. Employee must have access to reliable transportation and be able to transport to areas not accessible by public transportation. A valid driver's license and automobile insurance is required.   
Send a Cover Letter and a Resume to: rlambert@arcnorthland.org or click here
Information Is Available in Alternate Formats Upon Request 
---
Come back often to check for additional job postings.
---
If you are looking for an Internship experience at Arc Northland, contact Jenny Kempfert at:  jkempfert@arcnorthland.org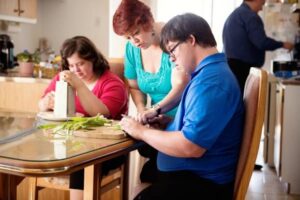 Arc Northland offers a variety of services to help and support individuals and families with disabilities throughout Northeastern Minnesota.
We are successful in advocating for people with disabilities and their families because of the support of local businesses and community members.
Please consider making a contribution that will improve the future for people of all ages with disabilities throughout Northeastern Minnesota.
Need help? Let us know what questions you have and how we can help.