Open Positions
Adult, Children and Family Services Program Coordinator
To Apply online, please click HERE
Job Description
Arc Northland is a nonprofit organization that supports individuals with disabilities, their parents and other supporters through education, advocacy and other supportive services.
Classification
Full-Time, Non-exempt; Hours May Vary
Reports to the Adult, Children and Family Services Program Director
Position Summary
This is a professional position providing advocacy, support, information and referral services to individuals with disabilities, as well as family members and other supporters.  The Program Coordinator in this role will work primarily supporting children and families with special education advocacy and Pre-Employment Transition Services (Pre-ETS).
Essential Job Functions
Employees in this job classification must be competent in exercising independence and adhere to all Policies and Procedures as outlined in Arc Northland's Employee Handbook
Administrative:
Maintain necessary records of individuals receiving services; as well as, other information required and necessary for effective service delivery, record keeping, documentation and generating reports.
Turn in required paperwork and program reports on time.
Accurately track time worked.
Direct Service: 
Provide comprehensive person-centered services and supports including but not limited to:
Advocacy services to individuals with disabilities throughout their life, with a primary focus on youth.
Advocacy and support to family members and other supporters.
Work with students and their families who are receiving Special Education services who are on an Individual Education Plan (IEP) or 504 Plans.
Support youth through Vocational Rehabilitation Services Pre-ETS program focusing on various aspects of self-advocacy skill development, and other needs relating to transitioning into adulthood.
Such duties might include but not limited to the following:

Collaborate with local Special Education Cooperatives and local service providers within Arc Northland's service territory.
Work with Vocational Rehabilitation Services (VRS) regarding individual referrals for Pre-ETS.
Attend professional meetings supporting youth, their families and/or other supporters.
Communicate either in writing or verbally, on behalf of student/family in support of needed school or other services.
Meet with the parents/guardians to go through the child's IEP/504 plan or VRS' service requests.
Offer suggestions, edits, or alternatives within IEP's and 504 plans, when necessary.
Provide additional community resources for families.

Carry out the requirements of the Vocational Rehabilitation Services (VRS), Limited Use Vender Agreement contract focusing on Pre-Employment Transition Services (Pre-ETS) for youth in high school.
Facilitate support and education for individuals, groups, families, and community members.
Make appropriate referrals for child and/or family when necessary.
Teach and support individuals with developing skills that improve or enhance quality of life. These may include:

Self-advocacy
Budgeting and money management
Learning about and navigating community resources
Education and Employment resources, options, and supports.
Social, recreational and transportation options
Socialization skills
Education regarding disability rights and current legislation affecting people with disabilities.
How to connect with other providers
Housing resources, options, and supports.
Assisting individuals and families with understanding and awareness of their disability.
Work independently.
Work flexible hours when needed.
Have access to reliable transportation.
Other duties as assigned.
Qualifications
Minimum qualifications require a bachelor's degree in social work, human services or related field combined with two years or more experience working with people with disabilities.  Experience working with youth and understanding of the IEP and 504 process under the Individuals with Disabilities Education Act (IDEA) is preferred.
Knowledge, Abilities and Skills
Trained in person-centered thinking and planning, or willingness to complete training.
Understanding of Home and Community Based Services in Minnesota
Knowledge of local community service networks, including VRS.
Background in Healthy Sexuality and Relationships a plus.
Ability to work with minimal supervision or guidance.
Knowledge of Microsoft Word, Excel, and PowerPoint
Communication/Language skills
Excellent communication skills
Excellent writing skills
Submit reports and correspondence as needed.
Comfortable presenting to groups
Ability to make appropriate professional judgments.
Ability to handle multiple tasks and prioritize work.
In compliance with the Americans with Disability Act, the following represents the Physical/Environmental demands. 
In all cases, reasonable accommodations will be considered.
This position requires the majority of the workday spent sitting, standing and walking.
Weights of objects to be lifted, carried, pushed, or pulled rarely exceed 24 lbs. Simultaneous use of the hands, wrists, and fingers is sometimes required.
Movements such as climbing, stooping, crouching, twisting, bending, reaching, handling, fingering and feeling are sometimes required.
Audio, visual, and verbal functions are vital aspects to performing this position.
Much of the workday is spent in the community and may require exposure to outdoor elements including dust, fumes, noise, and glare.
Transportation
This position requires travel, generally within the state. Periodically, overnight travel is required. This employee must have access to reliable transportation and be able to transport to areas not accessible by public transportation. A valid driver's license and automobile insurance is required.
This Job Description is not intended to be a contract of employment.
This Information Is Available in Alternate Formats Upon Request
Looking for an Internship experience?  Contact Jenny Kempfert at:  jkempfert@arcnorthland.org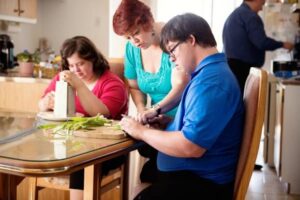 Arc Northland offers a variety of services to help and support individuals and families with disabilities throughout Northeastern Minnesota.
We are successful in advocating for people with disabilities and their families because of the support of local businesses and community members.
Please consider making a contribution that will improve the future for people of all ages with disabilities throughout Northeastern Minnesota.
Need help? Let us know what questions you have and how we can help.