PCA Choice Services
What are PCA services?
Personal Care Assistant (PCA) services help people with disabilities of all ages to live independently in the community or in their family home by assisting with activities of daily living, instrumental activities of daily living, health-related functions, and behavior supervision and intervention.
Who is eligible
To be eligible for PCA services through Arc Northland, you or your family member must:
Be eligible for or receiving Medical Assistance (MA) insurance
Be able to make decisions about your own care or have a responsible party who can assist in directing cares and services
 Have a screening assessment done by a county MN Choices screener
What is PCA Choice?
Under the PCA Choice option, more responsibility is shifted to the individual or family, and the PCA agency acts as the employer of record.
Click here to learn more about the PCA program in Minnesota.
For more information about Arc Northland's PCA Choice program, please contact Jenny at (218) 726-4724.
Printable Documents
Related Websites
Holiday Pay
PCA Choice workers receive time and 1/2 pay for the following 5 holidays:
New Year's Day

Martin Luther King Jr. Day

Memorial Day
Labor Day
Thanksgiving
PCA Services will soon transition to CFSS:
Community First Services and Supports (CFSS)
Community First Services and Supports (CFSS) is a Minnesota health care program that offers flexible options to meet the unique needs of people. CFSS allows people greater independence in their homes and communities. CFSS will replace personal care assistance (PCA) and the Consumer Support Grant (CSG) once the MN Dept. of Human Services has authorization from the federal government to begin the program.
CFSS will cover the same main services as PCA:
Activities of daily living, such as eating, bathing, grooming and transferring

Health-related tasks

Instrumental activities of daily living, such as shopping, cooking, and laundry

Observation and redirection of behavior
In addition, CFSS will provide some new options for individuals, including:
The opportunity for spouses and parents of minor children to be paid workers for their family member.
The option to use a part of one's budget to purchase goods and services that replace the need for human assistance.
A worker training and development budget that can be used to train workers on the individual's care needs.
The option to purchase a personal emergency response system (PERS) to provide back-up support.
Under CFSS, individuals will be able to choose between the agency model, for those who want to receive support from a provider agency, and the budget model, for those wanting more choice and control as the employer of their support workers.  Each individual will also work with a consultation services provider, who will provide education on their options and support in writing their service delivery plan.
Click here for a link to DHS's CFSS informational page.
Click here to watch an informational video from DHS on CFSS.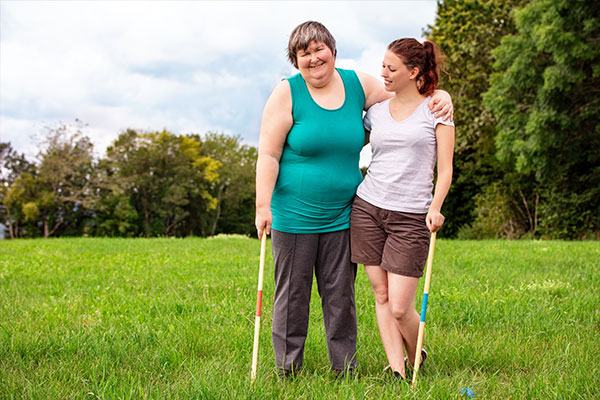 Arc Northland offers a variety of services to help and support individuals and families with disabilities throughout Northeastern Minnesota.
We are successful in advocating for people with disabilities and their families because of the support of local businesses and community members.
Please consider making a contribution that will improve the future for people of all ages with disabilities throughout Northeastern Minnesota.
Need help? Let us know what questions you have and how we can help.