Arc Northland in the Media
Tell your Senator to "Stop the Shock!"
It seems unreal that outdated methods of power and control are still happening in the United States.  Judge Rotenberg Center (JRC) is known for using prolonged restraints, food deprivation and electric skin shock on its participants. Please reach out to help stop the abuse.  "The Arc has been fighting for years to sop this practice, because people with disabilities deserve to live free from torture and fear."
Click here to send an email to your officials to "Stop the Shock".
---
2022 Minnesota General Population Survey of Attitudes Towards People with Developmental Disabilities, click here to read the survey.
---
It's time to tell Congress that #CareCantWait!
We have an opportunity right now to make a HUGE investment in home and community-based services (HCBS) funded through Medicaid by passing the Better Care Better Jobs Act.
Help make this happen by sharing with your members of Congress what home and community-based services mean to YOU and YOUR FAMILY or why you need these services NOW!
Background: People with disabilities rely on home and community-based services funded through Medicaid to live independently in their communities. HCBS support people with disabilities by paying for things like employment supports, getting around the community, dressing and bathing, taking medication, and much more! But due to a decades-long lack of investments in the system, Medicaid doesn't have the funding to support everyone. This means people are stuck on waiting lists, direct care workers are underpaid due to stagnant wages, and too often unpaid family caregivers are filling in the gaps in service.
---
Dear Friends,
As an affiliate, Arc Northland would like to show our support of the message below from Andrea Zuber, Arc Minnesota's CEO.
Arc Northland supports the rights of our black, brown, indigenous, and Asian community members, with and without disabilities. All people deserve to live the life of their choosing and often people with disabilities are left behind, often more so for people of color with disabilities. The statistics below are staggering. Arc Northland stands behind systemic change that supports racial justice, full inclusion, and quality of life for all people.
Together, we can make a difference.
Thank you!
Laurie B. Berner
Executive Director
Arc Northland
_______________________________________________________________
A Statement From Andrea Zuber
Last year, a Minneapolis police officer murdered George Floyd and caused immense trauma to communities across Minnesota and the United States. Today, our thoughts are with the Floyd family as they continue to remember George Floyd's life and grieve their loss.

The guilty verdict yesterday was a critical moment of accountability in our systems – part of what we hope is a broader movement toward justice. There is still much work to be done. Systemic racism is deeply embedded in society, systems, and institutions throughout our state and across this country. While many people are just beginning to take notice of injustices, far too many people have been living with oppression every single day.

In order for critical systemic change to occur, the experiences of Black, Brown, Indigenous, and other People of Color need to be centered and elevated. This must include people who have disabilities, who are advocating for their wellbeing and forming intersectional coalitions with communities who face oppression, discrimination, and racial profiling.

Racism and ableism go hand-in-hand. A Ruderman Family Foundation study – highlighted in The Arc U.S.'s Disability Policy Seminar just yesterday – showed that 25%-50% of people killed by police have a disability. That is a staggering percentage, and directly threatens The Arc Minnesota's mission of promoting and protecting the human rights of people who have intellectual and developmental disabilities. At our core, we are a human rights organization, and are called to act when injustices occur in our communities. The life, health, safety, and well-being of our family members, friends, and neighbors is not political; it is universal.

The Arc Minnesota will always act in solidarity with people who have disabilities in pursuing an anti-ableist and anti-racist future. We will continue to support and follow those who are leading this work and fighting for a more just future for all. We invite every Minnesotan to join together to create an inclusive state where all residents feel safe, free, and supported.
Thank you,
Andrea Zuber
Chief Executive Officer
The Arc Minnesota
_________________________________________________________________________
Laurie Berner, Arc Northland's Executive Director was interviewed by Mark Oppenheim, Host of PBS' Insight program.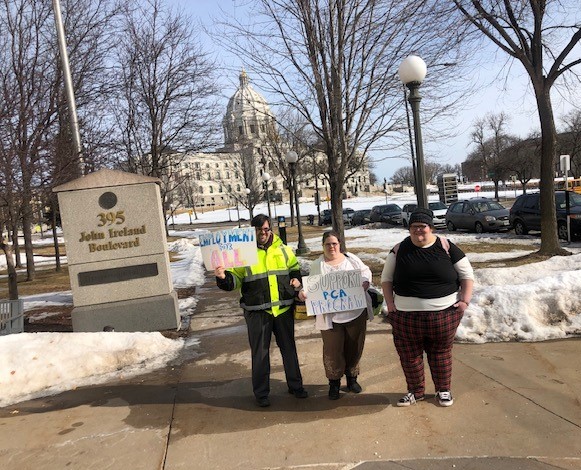 Arc Northland offers a variety of services to help and support individuals and families with disabilities throughout Northeastern Minnesota.
We are successful in advocating for people with disabilities and their families because of the support of local businesses and community members.
Please consider making a contribution that will improve the future for people of all ages with disabilities throughout Northeastern Minnesota.
Need help? Let us know what questions you have and how we can help.